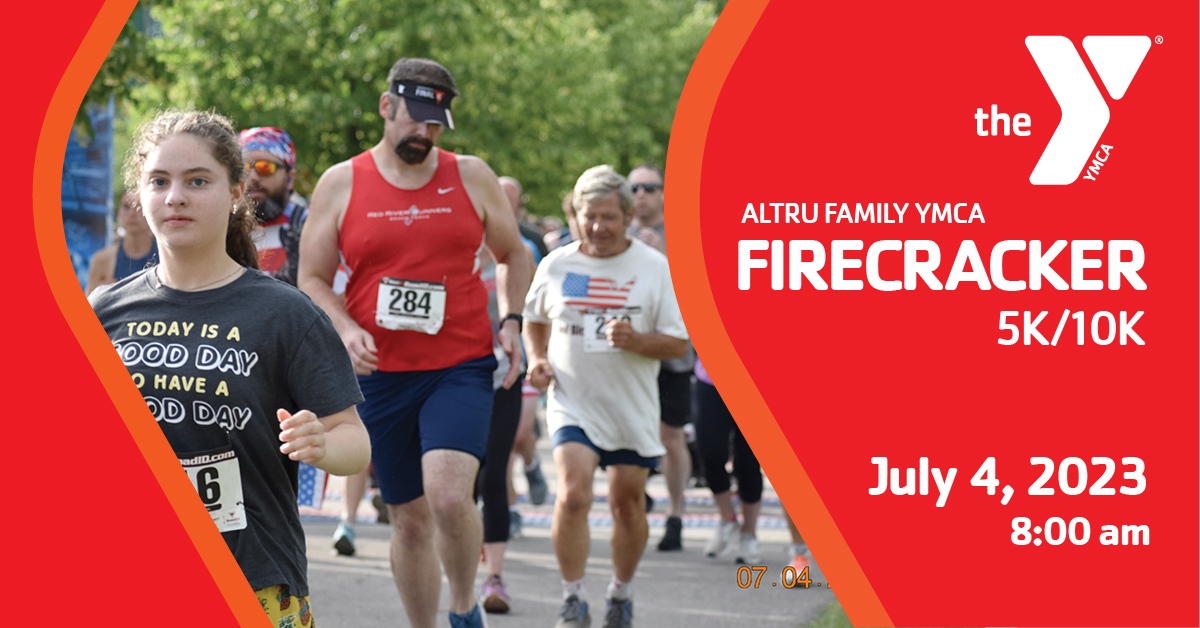 2023 Firecracker 5K/10K race results:
https://www.athlinks.com/event/24599/results/Event/1042829/Course/2337243/Results
July 4, 2023
8:00 am
The Altru Family YMCA Firecracker 5K/10K Fun Run/Walk and Kiddie Run will be held on Tuesday, July 4, 2023, on the beautiful Greenway in Downtown Grand Forks, right across the street from Town Square. The 5K/10K starts at 8:00 am sharp and the Kiddie Run starts at approximately 8:15 am. This is the perfect way to kick off your July 4th holiday. Come out to participate or encourage family and friends. Top Finishers will receive prizes and medals while all the "Kiddies" get a goodie bag just for participating. Water, gatorade, bananas and snacks will be available to all. Join us! 
REGISTRATION & PACKET PICKUP 
Registration runs from April 3 through race day (right now 7:45 am is the latest we can accept registrations). See Dick Run is handling registration and timing. We HIGHLY ENCOURAGE you to pick up your packet (bib and tshirt) at See Dick Run on Monday, July 3, between 5:00 and 8:00 pm. Please register by June 17 to ensure you receive your tshirt by race day.  
Registration Opens April 3: https://register.chronotrack.com/r/72355
Informational Brochure (subject to change): 2023 Firecracker Brochurre & Registration 5
Race Map: FIRECRACKER MAP 2023
2022 Results:
https://www.athlinks.com/event/24599/results/Event/1023768/Results
CONTACTS
Parker Stockert 
Race Director
Altru Family YMCA
pstockert@gfymca.org 
(701) 775-2586
Patti McEnroe
Race Director
Altru Family YMCA
pmcenroe@gfymca.org
(701) 775-2586
Richard Dafoe
Timing & Registration
See Dick Run
dick@rundick.com
(701) 775-1115
Cats Incredible 5K Fun Run & Kids Fun Run
Stay tuned for updates on 2023 plans.