History of the YMCA of the USA
The Story of Our Founding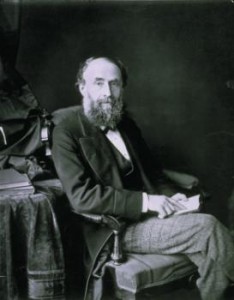 In 1844, industrialized London was a place of great turmoil and despair. For the young men who migrated to the city from rural areas to find jobs, London offered a bleak landscape of tenement housing and dangerous influences.Twenty-two-year-old George Williams, a farmer-turned-department store worker, was troubled by what he saw. He joined 11 friends to organize the first Young Men's Christian Association (YMCA), a refuge of Bible study and prayer for young men seeking escape from the hazards of life on the streets. Although an association of young men meeting around a common purpose was nothing new, the Y offered something unique for its time. The organization's drive to meet social need in the community was compelling, and its openness to members crossed the rigid lines separating English social classes. Years later, retired Boston sea captain Thomas Valentine Sullivan, working as a marine missionary, noticed a similar need to create a safe "home away from home" for sailors and merchants. Inspired by the stories of the Y in England, he led the formation of the first U.S. YMCA at the Old South Church in Boston on December 29, 1851.
Here's an extended glance at our rich history, and a snapshot of our many successes over the last 165 years on behalf of the individuals and communities we are privileged to serve.
Your local YMCA
On March 26, 1886 the YMCA was opened in Grand Forks, ND. It was organized through the collaboration of six churches within the community, who each appointed a pastor as a lay member to help establish the YMCA. These volunteers determined that the YMCA should "promote the moral welfare, the social, intellectual, and physical benefit of young men". The first YMCA offered group devotions, singing, prayer, reading rooms and gym. Today, the Altru Family YMCA is open to men, women and children of all faiths, races, abilities, ages and incomes. In 1969, Our current facility was built, which now hosts two gymnasiums, a swimming pool, aerobic conditioning center, free weight and nautilus area, child care center, aerobic classes, racquetball courts, running track, indoor playroom and community meeting rooms. We provide a wide variety of programs and services for every member of the family to come together and enjoy.
COMING SOON. . . An extended glance at the YMCA in Grand Forks and its 125 year history serving youth and families in our area.
1800-1860s 1870s-1890s 1900s-1950s 1960s-1990s 2000-Present