TRIATHLONS & SPECIAL EVENTS
Health and wellness are about getting out there, meeting people, participating in activities, and challenging ourselves. Events that everyone can participate in are a great way to get people together and challenge ourselves personally.
Altru Family YMCA Annual Fall Indoor Triathlon
Date TBD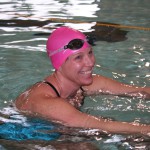 Start your fall off right with an indoor adventure! Swim, bike and run/walk in the comfort of the indoors. You can seriously push yourself or take it at a slower pace, or somewhere in-between. This event is also a great first-time triathlon.
How does it work?
The race is conducted in waves of 5 people. You will be with the same wave (group) during all three events. Waves start every 25 minutes.
First you will swim or walk laps in the pool for 10-15 minutes while a Y volunteer on-deck counts your laps. If you are not a strong swimmer that's ok – you can use any stroke, kick with a kickboard, or water walk. Aqua belts are also available to use while training and during the event.
Next, you'll go to the locker room and change (you'll have at least 15 minutes) and head to the treadmill and complete a 10-20 minute walk or run. A volunteer will be stationed in the Fitness Center to help with runners/walkers.
Finally, you will head down to the mini gym. You'll ride as a group for 10-20 minutes, pedaling at the pace you feel comfortable with. Your mileage will be tracked on the bike's computer and will be recorded.
Top finishers are decided by a percentage conversion of the total number of laps and miles per competitor.
Divisions
Youth Junior: 8-12 10 minute Swim, 10 Minute Run, 10 Minute Bike
Youth Senior: 13-16 15 minute Swim, 15 Minute Run, 15 Minute Bike
Adult: 16+ 15 Minute Swim, 20 Minute Run, 20 Minute Bike
Registration Details
Ages: Adult / Youth (who are tall enough to ride the Keiser bikes – and physically able to complete all three events).
Waves will be assigned based on division.
Pre-registrations will be accepted until TBD
Same day registrations are possible if all heats are not filled.
A YMCA representative will call you with instructions a few days prior to race day to confirm your starting time, and answer any questions you may have.
For more information please call Adam Sorum at 701-775-2586.
Thanks to our major sponsor:

Additional sponsors:  Scheels; Altru Health System
We would also like to thank Richard Dafoe and our volunteers from the Red River Track Team.