Our current Group Fitness schedule is located on our Group Fitness Page.
The following class options are appropriate for active older adults, beginning exercisers, and anyone with limited mobility.
SilverSneakers®
SilverSneakers® is a preventative exercise program that enhances the quality of life for mature adults across the country. One of the largest senior-focused exercise programs in the United States, this partnership between HCD and HMOs allows Medicare-eligible members of these health plans to participate in YMCA programs at no additional cost.
SilverSneakers® Classic
Have fun and move to the music through a variety of exercises designed to increase muscular strength, range of movement and activities for daily living. Hand-held weights, elastic tubing with handles, and a SilverSneakers ball are offered for resistance. A chair is used for seated and/or standing support.
SilverSneakers® Circuit
Combine fun with fitness to increase your cardiovascular and muscular endurance power with a standing circuit workout. Upper-body strength work with hand-held weights, elastic tubing with handles, and a SilverSneakers ball is alternated with low-impact aerobic choreography. A chair is used for standing support, stretching and relaxation exercises.
SilverSneakers® Yoga
SilverSneakers Yoga will move your whole body through a complete series of seated and standing yoga poses. Chair support is offered to safely perform a variety of postures designed to increase flexibility, balance and range of movement. Restorative breathing exercises and final relaxation will promote stress reduction and mental clarity.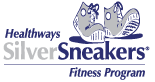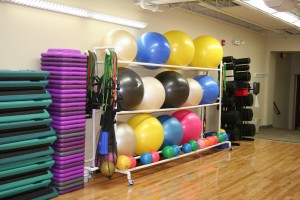 SilverSneakers® Splash
A fun, shallow water exercise class that uses a signature splash board to increase movement and intensity options. Splash is suitable for all skill levels and is safe for non-swimmers. The pool provides many benefits when used for aerobic exercise and resistance training.
Balance Boost
Improve your balance, posture, flexibility, and cardiovascular capacity for enhanced functionality for daily living. Exercises target the body from head to toe, with an emphasis on lower body strength (legs, hips, core) and lower & upper body coordination. Stay healthy, strong, mobile and independent. Chairs are available for seated or standing support.
Bone Builders
An exercise class for people iwth osteoporosis that will improve posture, back strength, range of motion, and flexibility – and decompress the spine – all while lying down.
LIVESTRONG YogaFlex
This yoga-based balance and flexibility class incorporates sitting and standing yoga and other poses for improved balance, posture, strength and flexibility. Chairs and light hand weights or balls are used. This is an appropriate class for anyone who does not wish to get down to the floor. Free to all LIVESTRONG a the YMCA Alumni. Open to all Y members and guests.
Healthways BOOM
BOOM'S GONNA MAKE YOU SWEAT
Have you hit a fitness plateau? Do you like fast-paced workouts that are done in 30 minutes? Can you handle a challenge? BOOM was developed by leading fitness experts to improve strength, flexibility and endurance in convenient 30 minute workouts. These classes will challenge you, but don't worry: one-handed pushups aren't required.
BOOM MOVE IT
A higher intensity dance workout class that imrpoves cardio endurance and burns calories. MOVE is about breaking a sweat and having fun. The class focuses on cardio endurance by starting with simple dance moves, then building into more complex sequences.
BOOM MUSCLE
Muscle incorporates athletic based moves that improve upper body conditioning. Members will see many muscle conditioning blocks at all different levels for a member to choose what works best for them. The focus of this class is on toning muscles and building overall body strength.
GUIDE TO SENIOR LIVING IN NORTH DAKOTA
For information about senior living resources visit: https://www.seniorhousingnet.com/seniors/senior-living-us/north-dakota