YOUTH SPORTS
YOUTH BASKETBALL LEAGUE
The YMCA offers a Youth Basketball League each year for grades 1-6. YBL is a fun program, which emphasizes basic basketball skills, sportsmanship, team play and participation. As in all YMCA sports, winning is downplayed, and no league standings are kept. All players will get an equal amount of playing time. The volunteer coaches and referees work hard to make YBL a fun learning experience.We will try to hold all practices and games in the Grand Forks Schools. We reserve the right to change rosters to maintain competitive balance. The season is held on Tuesday, Thursday and Saturday. A complete practice and game schedule will be distributed at the start of each program. Spring YBL starts in April.
YBL is in cooperation with the GF Fastbreak Club.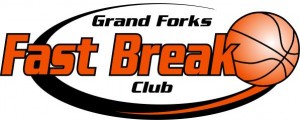 Fastbreak Club Mission:
To provide a positive structured environment for active participation in basketball, while allowing individual athletes to develop their skills and abilities to the highest possible level.
Girls Youth Basketball League: Starts October 24th
Grades 2-6
October 24-December 19    Tues/Thurs/Sat
Members $80  Non Members $95
Free Girls Basketball Clinic on at the YMCA on Tuesday, October 17th
Boys YBL: Starts in January 
Members $80  Non Members $95
Spring YBL (Boys and Girls): Begins in April (Tues/Thurs only)
Spring Youth Basketball League: Boys & Girls Grades 1-6
Registration Deadline: April
Members $55  Non Members $65
Schedule: Tues/Thurs (No Saturdays this year)  Evenings
Basketball Tournaments Reg Form2018  – Entry Form for 2017-8 Youth Basketball Tournaments
Basketball Team Tournaments
3 on 3 Tournaments – Nov 18 & Dec 2 (Grade 3-6)
5 on 5 Tournaments- Jan 6 (Grade 3-4)  Jan 7 (Grade 5-6)  March 24 (Grade 3-8)
Itty Bitty Sports
Providing opportunities for the littlest members of you family. Introduction to basketball, baseball, soccer. Each session is four weeks. Parent participation is needed.
Ages: 3-4 yrs
Session: Fall
Soccer – Sept 6-27 (Wednesdays 5:30-6:10 or 6:20-7:00 pm at YMCA).
Basketball – Sept 30-Oct 21 or Oct 28-Nov 18 (Saturdays 9:00-9:40 or 9:50-10:30 am at YMCA).
Additional Sessions of  Whiffleball, Soccer and Basketball are offered throughout the year.
Fee: $30/Members $40/Participant
Mighty Mite Basketball
This FUN program introduces children in Kindergarten and 1st grade to the exciting sport of basketball.
Basic basketball skills, sportsmanship, team play, and participation will be emphazing this 5-week program.
YMCA Reversible shirts are required.
Session 1: Sept 16-Oct 14
Boys (K&1) Saturdays: 9:00-9:50
Girls (K&1) Saturdays: 10:00-10:50
Session 2: Oct 21-Nov 18
Boys Saturdays: 9:00-10:00
Girls Saturdays: 10:00-11:00
Flag Football – Starts September 16th
Grade K-4:  12:00-12:50 (Ulland Park Dia #13) 
Sept 16-Oct 14 (Saturdays)
Fee: $40/Members $50/Participant
Dodgeball (New!)
Boys & Girls Grade 5-6
Session: Oct 21-Nov 18
Time: 11:00-11:50
Fee: $40/Members $50/Participant
Soccer
Boys & Girls
Session: Oct 21-Nov 18
Happy Feet:   Age 4-K
10:40-11:30
Indoor:   Grades 1-4
11:40-12:30
Days: Saturdays
Fee: $40/Members $50/Participant
Martial Arts
Tae Kwon Do
Ages 5-Adult Welcome!
Tae Kwon Do, a form of martial arts and self-defense is also recognized as an Olympic sport. The teaching method offered is "Taekwondo Chung Do Kwan," one of the oldest and most recognized throughout the world. Students are able to train and be promoted, receiving authentic certification white belt through Black Belt, with the opportunity to compete in tournaments. The instruction is GREAT Fun and GREAT Exercise too! You will increase your "inner confidence" as you learn how to defend yourself.
Date: Tuesdays with monthly registration
Class Times: 6:30-8:00 pm
Cost: $40/Members $50/Participants