TRIATHLONS & SPECIAL EVENTS
Health and wellness is about getting out there, meeting people, participating in activities and challenging ourselves. Events that everyone can participate in are a great way to get people together and challenge ourselves personally.
Altru Family YMCA 9th Annual Winter Indoor Triathlon
Saturday, March 7, 2020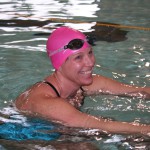 Take the challenge! The Winter Indoor Triathlon is right around the corner, so now is the time to get ready. You'll swim, bike and run/walk in the comfort of the indoors – at your pace.
The race is conduced in waves of five people, starting in the pool. You can swim or walk laps while a volunteer on-deck counts your laps. Use of a kickboard or aqua belt is optional. Then you'll change in the locker (you have about 15 minutes) and head down to the group cycling studio where you'll cycle for 20 minutes. Finally you will head to the track or a treadmill and run/walk for 20 minutes.
Top finishers are decided by a percentage conversion of the total number of laps and miles per competitor. Prizes will be awarded to the top finishers in the men's and women's categories. Cost is only $30 per person and each participant will receive a t-shirt and a participation medal. Snacks will be provided.
Event Results:
Dozens of athletes swam laps in the pool, pedaled to the medal on the exercise bikes, and ran laps on a track  or treadmill as part of the Winter Indoor Triathlon. Altru Family YMCA has hosted the triathlon for nine years. Athletes spent 15 minutes in the water, 20 minutes spinning their wheels, and 20 minutes circling the track or on a treadmill. The YMCA Indoor uses a formula that converts those miles into points, and that's how we determine our top winners. All of the competitors went home with a tee shirt and a medal. 34 athletes competed in this year's winter indoor triathlon, a number that has steadily grown over the years. Hugo's, Scheels, See Dick Run, and Altru sponsored the event.
Women's Division Top 3:
Robyn Bancroft
Kaytelyn Destosier
Kyla Blazek
Men's Division Top 3:
Tyler Newman
Maverick Seidel
Uriah Kerry
Thanks to our major sponsor:

Additional sponsors:  Scheels; Sam's Club; Altru Health System
We would also like to thank Jeff Bakke, Richard Dafoe and our volunteers from the Red River Track Team.
Tin Man Ironman Family Triathlon
Summer 2020: June 1 – July 24
YOU CAN DO AN INRONMAN! In 8 weeks or less, you can accumulate enough mileage to actually complete an INRONMAN Triathlon and say "I Did It!". Categories include Adult, Youth and Family. Youth distances are adjusted. Log books are included and t-shirts are awarded when participants turn in their logs.
Adult Distances: Swim: 2.4 miles; Bicycle: 112 miles; Run/walk: 26.2 miles
Youth Distances: Vary by age groups (Tin Man 2020 Brochure)
Family: You'll be completing a full Ironman (Adult Distances) as a family unit, keeping track of your activity on one log book.