Welcome to the 2nd annual Pumpkins for Parkinson's Grand Pumpkin Growing Contest, a fund raiser supporting the YMCA Parkinson Wellness and Rock Steady Boxing programs! Eight teams are nourishing special pumpkins that have the potential to grow up to 500 pounds or more. The teams are seeking per-pound and one-time pledges. The final weigh-in celebration will be held in late September or early October at the Altru Family YMCA.
Proceeds will be applied toward specialized equipment, transportation assistance, instructor training costs, financial scholarships, and operating costs of the Parkinson Wellness and Rock Steady Boxing programs.
Our teams include: The White Hat Gang (Coach Brad Berry & Al Pearson, Captain Joanna Pearson); Team BUD (Dakota Sales, Captain Randy Kieffer); Greenberg Realty/Greenberg Farms (Captain Shelly Overbo); Black Gold Farms (Captain Leah Halverson); Grand Forks Teachers (Captain Jolene Dunphy); Alerus Financial (Captain Mike Compton); CHS Ag Services (Captain Tom McEnroe); and Crop Production Services (Captain Orval Swenson).
Pledges may be made with team leaders, in person at the Y, by mail, by phone, or online by going to our home page and clicking on the DONATE button, then choose Pumpkins for Parkinson's in the dropdown menu: http://www.gfymca.org/donate/  You can also identify your team by clicking Dedicate this donation / in honor of / type in team name.
About our Parkinson Wellness Programs
More About the Fund Raiser
Pumpkins for Parkinson's 2017 Complete
Pledge Form
Recap of 2016 Pumpkins for Parkinson's Fund Raiser
Pumpkins for Parkinson's Recap 2
For additional information, please contact Patti McEnroe at the Y: 701-775-2586 / pmcenroe@gfymca.org
YMCA Parkinson Wellness Recovery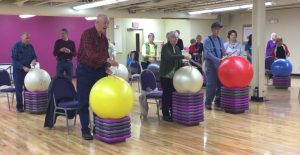 The Altru Family YMCA is pleased to offer the YMCA Parkinson Wellness Recovery Program. This program is designed to improve the lives of people living with Parkinson Disease. Based on the Parkinson Wellness Recovery (PWR!) and Exercise4BrainChange™ curriculums, our program focuses on improving physical and brain functionality so that people with Parkinson Disease can get better and stay better longer.
Participants spend 30 minutes completing activities and playing games that challenge the thought process and stimulate brain activity to optimize their brain health. Approximately 50-60 minues of physical activity follow, including a variety of basic progressive and functional whole body movement exercises, to improve overall physical performance and ability.
We are fortunate to have a team of YMCA and community professional staff, Altru Health System Partners, and the UND Department of Physical Therapy helping us offer the safest and most effective program possible.
For more detailed information, please download the brochure: PARKINSON Flyer Mar 2107
Contact: Roxee Jones or Patti McEnroe at the Y: (701) 775-2586
Rock Steady Boxing
Rock Steady is a boxing-based program designed to improve strength, balance, flexibility, endurance, speed, reaction time, and overall well-being of people living with Parkinson Disease. Utilizing authentic boxing equipment such as heavy bags, speed bags, gloves, and various other exercise equipment in a circuit training format, Rock Steady is a unique and specialized program that challenges individuals and gives them the opportunity to fight back against Parkinson's.
Tuesdays: 12:00 – 1:30 pm
Studio A/B
Volunteers are needed to help supervise classes.
If you have boxing experience and/or the desire to help change lives for the better, please contact Roxee or Patti at the Y.