MEET YOUR YMCA LEADERS
Staff Leadership
The staff and volunteer leadership of the Altru Family YMCA work tirelessly every day to nurture the potential of kids, improve our communities health and well-being, give back and support our neighbors.
Debbie Thompson
President/CEO
A native of Grand Forks, Deb is a graduate of the University of North Dakota,with a Bachelor of Science in Social Work, and minor's in Criminal Justice, Psychology, and Early Childhood. While attending UND, Deb completed her volunteer requirements with the YMCA Youth Department. Upon completion, Deb joined the YMCA staff in December, 1984. After graduating from UND in 1987, Deb began her full-time career as theYMCA Child Care Director. In March,2000, Deb became the President/CEO. She is married with two children.
Bob McWilliams
Chief Operating Officer
A native of Grand Forks, Bob attended Mayville State University on a basketball scholarship, completing his Bachelor's Degree in Recreation Aministration from the University of North Dakota.Bob worked at the Y in various positions while attending UND. He was hired full-time as Membership Director in 1997, assuming his role as Chief Operating Officer in 2000. Bob is married with 2 children.
Robert Devine
Buildings & Grounds Director
Rob was raised in Manvel, after graduating from Oslo Public High School. In 1987, he joined The USAF Working as an Aerospace Flight Engineer on Lockheed C5A/B, C141B, C130. While on active duty, he attained an associate's degree in Aerospace Flight Engineer Operation and Industrial Technology. In 1997, Rob separated from the USAF honorably/decorated Gulf War Veteran. Currently Rob is working on completing his degree in Business Management from the University of Phoenix, and holds certification in Life Guard, CPR, First Aid, Steam Plant Engineering, Minnesota back-flow prevention installation and maintenance, and Certified Pool/Spa Operator. Rob is married and he has two children.
Adam Bach
Youth Development Director
A native of Minnesota, Adam is a graduate of the University of North Dakota, completing his Bachelor's degree in Recreation and Tourism Studies. Adam was hired part time in the summer of 2010, where he worked as summer camp counselor, lifeguard, youth sports coach and an afternoon child caregiver. He was hired full time as the Youth Development Director in the summer of 2012.
Darryl Marek
Sports Director
A native of East Grand Forks, Darryl attended the University of North Dakota graduating with Bachelor's Degrees in Physical Education and Marketing.  Darryl worked in the Athletic Department while at UND serving as Assistant Intramural Director.  After graduation he was Athletic Director and Community Education Coordinator at Marshall County Central High School in Newfolden (MN).  Darryl served as Recreation Coordinator for the Mandan (ND) Park District before coming to the Y as Youth Basketball League Coordinator in 2002.  He began serving as the Sports Director for the Y in January, 2012.
Patti Reslock-McEnroe
Healthy Living Director
Patti began her work at the Y in 1979 as a swimming instructor and became active in triathlons, cycle races and masters swim meets. In 1986, Patti started teaching group fitness classes. Patti has been ACE (American Council on Exercise) Certified since 1989, and is a master member of IDEA Health and Fitness Association. Patti is certified in many group exercise formats, including: Pilates, Kickboxing, Group Cycling, BOSU Integrated Balance Training, Personal Training, Drums Alive, Silver Sneakers Programs, and YMCA of the USA Certifications – YMCA Foundations of Group Exercise, Healthy Lifestyle Principals and LIVESTRONG at the YMCA. She was a Group Fitness Coordinator from 1990 -2012 and is currently the Healthy Living Director.
Volunteer Leadership
Board of Directors
Angie Baumann
Mike Delisle
Jim Galloway
Arlyce Gibbs
Al Grasser
Wayne Gregoire
Randi Hanson
Stacy Jensen
Kim Kieffer
Sue Kraft, Secretary
Matt Norby, Treasurer
Brian Overby
Courtney Ritterman
John Schumacher, Chief Volunteer Officer
Scott Swygman, Vice Chairman
Dan Syrup
Tracy Uhlir
Guy Useldinger
Jeff Wilson
Jill Wilson
Board of Trustees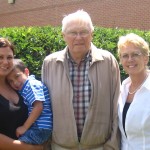 Robert Lander, Chairman of the Trustees
Mary Ann Devig
Dennis Elbert
James Hansen
Brian Kraft
Dave Vaaler